Every business needs a website these days. The first place people go to when they hear of a company or want to find a place to buy a product or service is the internet. This is why Cleveland website design is important. Companies in this city need to not only have a website that contains crucial information about their company, but it also needs to build trust with the consumer.
The Characteristics of a Good Cleveland Business Website
The city of Cleveland (including its metropolitan area) has over 3 million residents. Each of them has needs that local businesses must fulfill. These could be everything from manufacturing companies that make various components and products to restaurants that serve fresh food to customers. If you own one of these businesses, then you know the importance of customers. They need to find your business and know in an instant what it's about. This is where a website comes into play.
These websites need to convey your message to the consumer. You need to have a site that proves to the people in Cleveland that your business is an expert. This is done through design, as well as the content.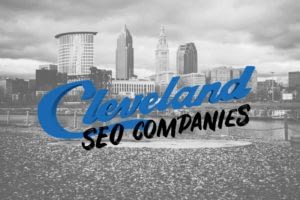 Cleveland Website Design
If your business already has a website, it's time to take a good look at it. Is it modern? Is it responsive? (Does it adapt automatically so that it looks good when viewed on a smartphone or tablet?) Is your logo prominently featured? Are there numerous calls to action? Without all of these things, your Cleveland website design is not up to par. You need to find a company that can modernize your website so that it proves that your company is the best at what it does. The message that it conveys matters.
On top of the main message and expertise presented by your website, there are many other things that it can do. For example, you can include a form that people can fill out in order to receive more information. You can set up a webshop for people who want to purchase your goods. You can do a lot of different things with a simple website, more than just presenting the right information.
Cleveland Businesses – What Message Does Your Current Website Send?
If your current website doesn't look modern or have the right calls to action, then it needs an overhaul. You need to contact us today to see what we can do for you.
DIGITAL MARKETING, WEBSITE DEVELOPMENT, & SEO AGENCY IN OHIO
We offer fair and honest service at a fair and honest price.
Request SEO Help
Or Call Us
(419) 496-5412